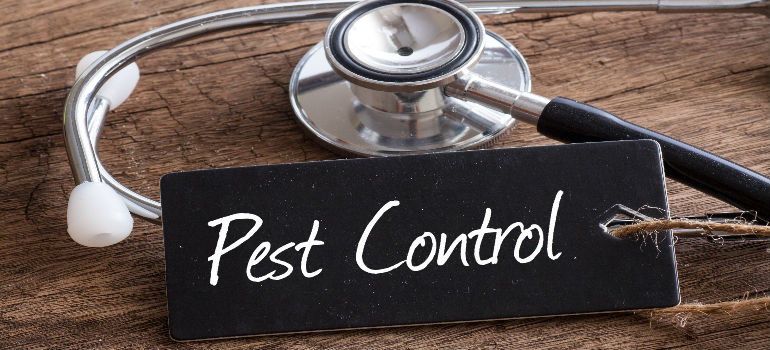 Whether the infestation is from rats, mice, cockroaches, or bed bugs,who is responsible for pest control when renting in the UK is a bit of a grey area sometimes. There are many reasons and ways pests can be introduces into a property. Sometimes it's difficult, even impossible to determine when and how an infestation begun. That's where the lease agreement comes into play. However, even that official document can often be useless.
In this detailed article, we review possible scenarios you can find yourself in, as well as different ways to act. We will also cover some common questions about pests in rentals.
When Are Landlords Responsible for Pest Control
As a landlord, you would be expected, as far as possible, to keep your property free from pests and in a way, that neither attracts them nor makes it easy for them to occupy the property. The Prevention of Damage by Pests Act 1949 is still in force, and you could be served with a statutory notice to eradicate the pests if an infestation at your property is causing a problem for tenants or neighbours.

Richard Price – Director of Operations for the National Landlords Association
The bottom line is that landlords are obligated to provide and guarantee the healthy living conditions for their tenants. Moreover, they have to ensure that repair work is completed in a manner that isn't causing, nor making a pest problem worse.
So, regarding pest control responsibility:
Landlords, as well as RSLs (Housing Associations and Registered social landlords) are responsible for pest proofing. They are also obliged to sign a contract for regular pest treatments, if their property is located in an area with a high population of seasonal returning pests.
UK Councils can serve an enforcement notice on landlords who refuse to take care of pest infestations on their property. If the Council has to eventually arrange the extermination procedure, the landlord is legally forced to pay all costs for it. The landlord has to pay all administration costs, as well.
Some local councils are not obliged to provide pest control treatments to tenants of private and social landlords or housing associations. No matter if they receive Housing Benefits or Council Tax Benefits. Moreover, some councils provide pest services only if they find it necessary or threatening enough to potentially cause health issues to other residents.
It is worth remembering that landlords are also responsible for the "public health", meaning that neighbours and other residents must not be put at risk because a certain homeowner has simply decided not to take care of their property.
Diseases are only one of the risks to which people are exposed because of pest infestations. Almost any vermin species is also able to cause damage to property and belongings, contaminate foodstuffs, destroy personal or commercial reputation and more.
What Are the Most Common Pests that Infest Rental Properties
The most common pests in the UK are mice, rats, bed bugs, cockroaches, wasps, ants, etc. That being said, some of the pest infestations are easier to notice than others. In some cases, the time when the vermin first appeared in a rental property are easy to establish than other pests.
Tenants shouldn't sign a lease before they've inspected the property's condition. One inspection can be enough for someone with an eye for details to notice if there are signs of infestation. What is more, upon visiting the property, if you spot something in need of a repair or vermin, you can request that your landlord fixes the issues before you sign the lease and move in.
Read more about signs of a rat infestation and signs for a cockroach infestation and know what to keep an eye for.
When Are Tenants Responsible for Pest Control
There are a number of cases when the tenant has a complete obligation to fully investigate and resolve pest issues inside the property they rents. Tenants are generally responsible to deal with the pests if they:
Fail to notify the landlord on time;
Delay pest treatments;
Fail to successfully arrange the extermination and proofing of the rental property on time.
In any of these cases the infestation might spread even further and endanger other residents or cause structural damage to the dwelling.
If a tenant attracts vermin inside a building because of negligent behaviour and this is supported by an investigation from a Health Officer, the tenant becomes fully responsible to resolve the pest issue. For example, improper waste disposal or frequent travelling can be two of the causes for a pest infestation.
Taking the responsibility for pest control as a tenant may also depends on other circumstances such as:
Whether there's anything about it in the tenancy agreement
No matter the case, a tenant should always check their tenancy agreement before notifying the landlord about the infestation. If the tenancy agreement between a landlord and tenant clearly states who is responsible, then both sides must comply with the document. But if there isn't a specific clause about this matter, both parties should come to a mutual agreement about who is responsible for the treatment. Usually, the document will contain the landlord's duty to keep the property in habitable state and the tenant's duty to maintain sanitary conditions.
If the property was infested before the tenant moved in
If the lease agreement doesn't contain information about pest control, it becomes extremely difficult to decide whose responsibility it is. The important first step is to determine whether the property was infested before or after the tenant got in.Sometimes this process may be troublesome as some infestations may not be detected until they develop.
But one thing is certain – it's every tenant's obligation to inform the landlord of the problem as soon as it has been noticed. It's also highly recommended to support the notification with evidence such as photos or video footage of the pest.
If the landlord refuses to investigate the matter, the renter can consult an attorney, who will further review the issue and give detailed instructions on how to proceed. One of the possible scenarios is to report the pest problem to the local council, which will dispatch an environmental health officer to the address to carry out a thorough inspection and rule out who should take care of the issue.
Are you dealing with a pest infestation?
You don't have to be alone in the battle against pests. Hire a professional pest expert!
Call us
If the problem was caused by disrepair
Repair work disregard is one of the main reasons for rodent infestations, such as mice and rats. In case it is written otherwise in the agreement, a landlord is always the one responsible for causing pest problems if the disrepair has arisen prior to the tenant entering the property. All tenants should check if the property has been well maintained in terms of repair work before signing a lease.
If the property is in a good state and the lease agreement has been signed, the tenant becomes responsible for its condition onward. If repair work due to pest damage is required later on, the tenant should inform their landlord for that necessity as soon as it arises. If this notice is delayed or not given at all, the tenant might become responsible to deal with the problem.
If an unresolved pest problem should be reported to the council
The council is obliged to investigate the circumstances which led to an infestation and will also check if the tenant has lawfully informed the landlord of the situation. This is why it is not recommended for tenants to contact the council before they try to resolve this with their landlord, as they might be referenced back to their landlords anyways, thus losing precious time and risk worsening the situation. Checking the lease agreement once again before contacting the council is also a must because it will help avoid misunderstandings and mistakes with the local authorities.
If the tenant fits the council's requirements, they will serve an enforcement notice on the landlord to deal with the pest. Mind that such notices may also be served on tenants if they refuse to take responsibility for pest control.
Any council will work towards partnership with both sides in order to resolve the issue. However, the side that is responsible in the particular situation will be eventually forced to deal with the pest.
When is the housing association responsible for pest control
The duty to deal with pests in a rental is often something that should be shared with the housing association. One thing is certain, there is no ultimate standard – things are different for each property. Very often, according to the council's regulations, housing associations will be responsible for pest treatments in the following situations:
If pests have appeared inside multi-dwelling properties and communal areas;
In case of disrepair or neglect due to any repair work happening on site.
However, tenants would be responsible for any infestations that occur in their own flats or apartments (this again varies between different properties), especially if the problem appeared due to negligent behaviour from their part.
In any case, the tenant should always inform their landlord and housing association about the issue. In order to determine who has to take action, a mutual, effective communication between more than two parties is required.
Check also:
What are your options to deal with pest infestations
Do it yourself pest control
Depending on the pest problem and how severe it is, there's a chance you can handle it yourself. Here are the pros and cons of this method of extermination:
Pros
Relatively cheap way to manage pests at home.
You are in control of the substances used around your property.
Suitable for minor pest problems.
There are green ways of deterring pests you can utilise.
Cons
You may not succeed.
It takes time, effort and extensive research.
A second treatment might be even more expensive.
Some pests require professional knowledge.
* Please note that a bed bug infestation isn't a DIY job. A bed bugs problem can be the landlord or the tenant's responsibility, depending on the circumstances. However, it's important to get a professional bed bug treatment in order to make the issue disappear.
Check also:

Guide to pest control methods
How to avoid cockroaches when moving
Council pest control vs. professional pest control services
Council pest control
Can't provide treatment during weekends and off-hours.
Most councils don't offer deals or discounts.
Some councils treat only particular pests.
Most councils require payment in advance.
No availability for emergency pest control.
Most services are pay-per-hour.
You get charged for cancellation, no matter when or why the service was cancelled.
Customer support is limited for office hours only.
Some local councils have a waiting list.
Fantastic Pest Control
24/7 customer support and pest extermination even on weekends.
We offer deals and discounts.
Pest control for any type of pest in the UK, except protected species.
Multiple payment methods.
Emergency pest sessions are available.
We don't charge per hour but per job.
You can cancel a service 48 hours prior to the appointment.at any time free of charge. up until 48 hours prior to the appointment.
The pest controllers do not just exterminate the vermin, they also make sure the property is afterwards sealed professionally to prevent a following re-infestation. This is a preferred option for people with little or no experience in pest control who want to deal with the pest problem once and for all, without taking unnecessary risks.
Check also:

RBKC – Pests in Rented Accommodation
Citizen Advice – Repairs and Infestations of Pests and Vermin
The Tenant's Voice – A Tenant Asks About His Rights
Frequently Asked Questions
Can I break my lease because of mice infestation?
You can do this in case you are 100% sure that it's the landlord who's responsible for the mice infestation. For example, if your landlord has refused to take action on an existing infestation, or has failed to organise a structural repair to stop the pest from entering the dwelling. Then the tenant has the right to contact the local Environmental Health Officer. From then, the council will have to take action.
This is often the reason landlords to prefer evicting their tenants instead of doing the required repair work to the property. It is unlawful if your landlord makes an attempt to evict you, while it's their mistake that mice have infested the property. Our advice is to contact an attorney, after which breaking your lease might be the better option.
Can a tenant refuse pest control?
A tenant may refuse a specific pest treatment. For example, if the tenants have allergies or are sensitive to certain chemicals contained in pesticides. But for such cases, an agreement can be reached between the two parties and the pest control company. So, regardless whether you live in a housing with multiple tenants, or live in a separate housing, a tenant shouldn't refuse pest control. Especially if the lease includes a clause about it. Tenant's refusal of pest control may lay grounds for eviction.
Who is responsible for a cockroach infestation?
The reason for cockroach infestation might be issued with the neighbour or any other systemic problem that has been ignored for too long. The pest may also be brought into the property from outside via luggage or any form of personal items, which have been contaminated with cockroach eggs or living insects. It's very hard to prove the source of the infestation, which may cause of conflict who is responsible for the roaches inside the property.
Who is responsible for a bed bug infestation?
Bed bugs are very hard to identify and the bite marks they leave are often mistaken for a skin rash, not caused by pests. The bugs may be brought to the place in a variety of ways, the most common of which is along with the luggage after getting back from a trip.
Your best option to avoid paying for bed bugs extermination is to make a quick inspection right after you get inside the rented property. Check places such as the mattress, luggage racks, clothing racks/shelves etc. In case you end up in a property like this, instantly demand from your landlord to disinfect every room inside the property or simply start searching for another place.
Check also:
When is a pest control letter from a tenant necessary
Before writing any form of letter to your landlord, read again the specifications of the lease agreement between both sides. It may turn out that the questions you have are already answered somewhere in the agreement.
In case the problem you have is listed as the landlord's responsibility inside the lease agreement, just mention this in the letter that you're about to write to your landlord.
What to include in your letter:
Introduce the issue clearly. Introduce yourself first and address the property you live in, because your landlord may let a number of properties and has to know which property you're speaking of.
Detail the problem. Explain the issue in a timeline if you can. When you first noticed the pest; What signs of a pest infestation you see; Did you see the pest itself; How severe is the problem, etc. You may also attach pictures with evidence, if you have any.
Make a specific request. After you explain the problem in detail, make a clear request to your landlord regarding the pest control. Do you think a certain repair is needed to stop the vermin from entering the property? Do you want them to arrange a pest control team to inspect and treat the house? Whatever it is, the request should be about returning the property to its previous condition of being completely tenable.
Explain the consequences if your response is ignored. Your landlord may decide to neglect your request, despite the facts that it's adequate and lawful. To avoid this, make the consequences of such actions clear in the pest control letter to him in the firs place.
Takeaways
The key to controlling pest infestations is maintaining close working relationships between tenants and landlords, and ensuring that the pest control contractor used is a reputable company that has insurance, adequately trained staff and a secure trading history.

The British Pest Control Association
To sum up, regardless whether you're the landlord or the tenant your lease contract is the first document you should check before taking any actions. Who is responsible for pest control when renting isn't the most imperative question. The important thing to resolving a pest issue in a rental property is the communication and understanding between the two parties.
If the source of the infestation isn't concluded, you can also agree to split the cost for the treatment.
Image source: Lemau Studio/shutterstock.com
Are you dealing with a pest infestation?
You don't have to be alone in the battle against pests. Hire a professional pest expert!
Call us