Pest Control in Southwark
Dedicated expert who stays until the work is done
One-time and fully guaranteed services available
Highly efficient pest products by a trusted UK supplier
Key pick-up and delivery service organised upon request
Schedule Southwark Pest Control Services for Your Home and Office
Often times, pest control is more than just spraying the infested areas and hoping for the best. It's also about accurately predicting the pest's behaviour. The certified pest technician in Southwark will do just that, in addition to bringing the finest equipment and products on the market in order to exterminate the infiltrators, seal off their entrances, and let you enjoy your property in peace.
Spotting a bug or a rat in broad daylight might indicate that the pest population is high. To confirm if that is the case, your certified pest controller will thoroughly investigate common hiding spots to determine how severe the infestation is in your Southwark home or office.
With the type of pest identified, the pest controller will discuss with you the treatment method. Rat control, for instance, involves sealing of all entry points with sealants, wire wool, and expanding foam. For wasp removal, the professional will use an extendable wasp wand to inject a powder inside the nest, which will instantly paralyse the insects and render the hive harmless.
Some pest species, such as rats, bedbugs, or cockroaches adapt quickly to the changes in their environment and can potentially survive the initial treatment. To ensure that this will not happen, book a service with a guarantee offered by our Southwark franchisee. This will allow you to request up to 2 extra visits free of charge within a 3-month period after your initial treatment.
Upon service completion, the pest exterminator will share personalised tips on how to keep your home or commercial establishment safe from a recurring infestation. Most pesticides and insecticides that the professional uses also have a prolonged residual effect, so they will continue to chase pests away weeks after the original population has been exterminated.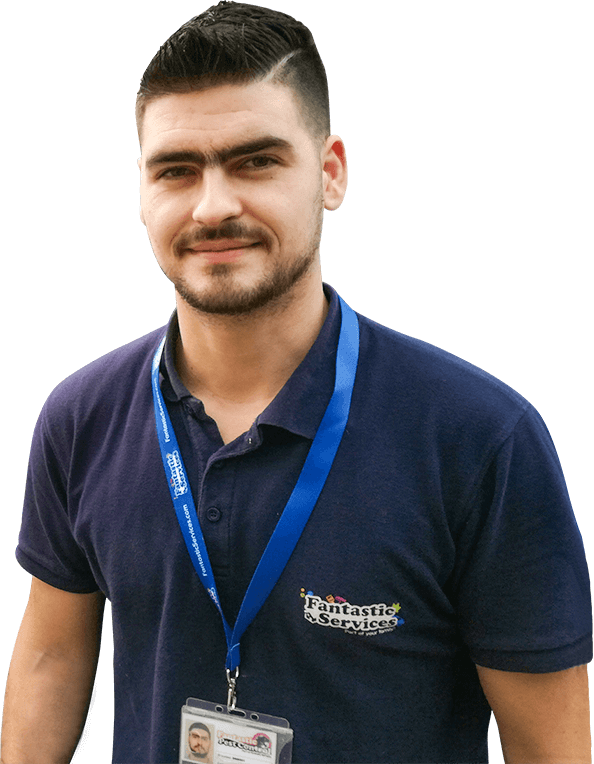 A Few Words About Your Southwark Pest Technician
Mark Dennison is a pest control provider near you who partners with the Fantastic Pest Control brand. The specialist has carried out hundreds of jobs in the area and his work has been thoroughly evaluated by Killgerm to ensure that both his products and methods meet the industry standard. The pest controller is also covered by a comprehensive insurance policy.
The professional is skilled in performing a variety of treatments – from rodent and insect control to bird and squirrel treatments. He also has a flexible schedule, so you can expect from him to arrive on any given day (bank holidays included) and even for emergency pest inspection and extermination if requested. Discrete treatments with an unbranded van are also available.
Mark is also responsible for our pest control services in Croydon, Lambeth and Bromley.
For Every Pest There Is a Fantastic Pest Control Solution
Rat and Mice Control

All rodent entries up to ½ inch in diameter will be barred with expanding foam, sealants, and wire wool. The specialist will also place baits with fast-acting poison to lure the sneaky rascals out. Once the poison takes care of the rodent population, the pest technician will place the carcasses in securely sealed bags and dispose of them in a safe and responsible manner.

Crawling Pest Extermination

The franchisee can take on cockroaches, ants, moths, wasps, woodworm and a variety of other insects. He can also perform bed bug treatment over the course of two visits. The expert will use several types of spray-based products based on the bug species. During the treatment, you will be asked to exit the property for a few hours to give the insecticide some time to settle down.

Flea Extermination

The specialist will apply a spray with a residual effect in every area where a flea was spotted. You will also be asked to take your pets (if any) to the vet. This preventive measure will deny the insects a chance to repopulate. Flea treatment is usually performed in a single visitation.

Business Treatments

Small businesses, big corporations, and public institutions can all take advantage of Fantastic Pest Control's bird control, fumigation, pest disinfection, and heat treatment services.

Bird control – great for keeping pigeons away; includes nets, spikes, and fire gels;
Heat treatment – kills any insect; involves warming up the infested area to 56°C;
Pest disinfection – treatment of all surfaces; done with biocides and an ULV machine.
Fumigation – protects your property from pests; done with a long-lasting spray product.
| | |
| --- | --- |
| Southwark Council | |
| The pest control team works Monday to Friday from 8am to 6pm and Saturdays from 8am to 4pm. | Full 24/7 availability for emergency jobs, including weekends, holidays and Christmas. |
| Please note, our pest control team partners with Croydon council in delivering the service. | Dedicated pest technician for each job, around the clock availability. |
| We can't provide assistance with infestations of: spiders and wood worm | Fantastic Pest Control can tackle, treat and prevent all sorts of pests, common and not so common ones. |
Fantastic Pest Control in Southwark
Pest control technicians near you in Southwark. Available 24 hours a day, seven days a week. Local emergency calls for pest infestations will be answered by our Southwark office representatives. Freight, not the professionals and leading experts in pest treatment and prevention are closer to you in order to deliver fantastic results.
Please be advised our pest control, treatment and prevention services are available to all boroughs that Greater London is comprised of. That includes the following neighbouring Southwark London boroughs:
The fella did a fantastic job on my property! I was fighting the little suckers on my own for quite a while with no results. Thanks once again, bed bugs are a real pain to handle on your own. I'd recommend you to anyone anytime.