Pest Control in Lambeth
Free pest prevention and proofing advice
Trained and fully equipped pest controller
Same-day and emergency visitations
COSHH-approved pest control methods
Fight Off All Common UK Pests with the Help of a Local Pest Technician
Expensive property damage. Ruined food. Rashes and painful bites. The local pest exterminator will save you the splitting headaches and sleepless nights by identifying the pests that lurk within your building and eliminating them using human- and pet-safe methods. He will also seal off all sneaky entrances into your property to discourage future intruders from nesting inside.
If you feel that the noises you are hearing are not a product of your imagination, schedule an inspection. The exterminator is well acquainted with the diurnal and nocturnal habits of most pests, and will waste no time in locating their hotbeds and assessing their population.
Once the infestation is properly evaluated, the pest controller will choose the most appropriate pest control method to deal with the threat. If the professional encounters rodents, he will lay down poisonous baits and use sealants, expanding foam and wire wool to block their entry points. For insects, he will usually use a variety of spray-based products to de-infest the area.
By booking guaranteed bed bug control or another form of pest treatment, you can request up to two extra visits for free if you are still bothered by pests after the initial session. The specialist will then track down the remaining critters and perform another round of treatment if required.
Unfortunately, there is no one way to keep the pests at bay forever. The local professional will, however, prolong your property's protection by using quality rodent-proofing materials, as well as pesticides and insecticides with a residual effect that will discourage new pests from arriving.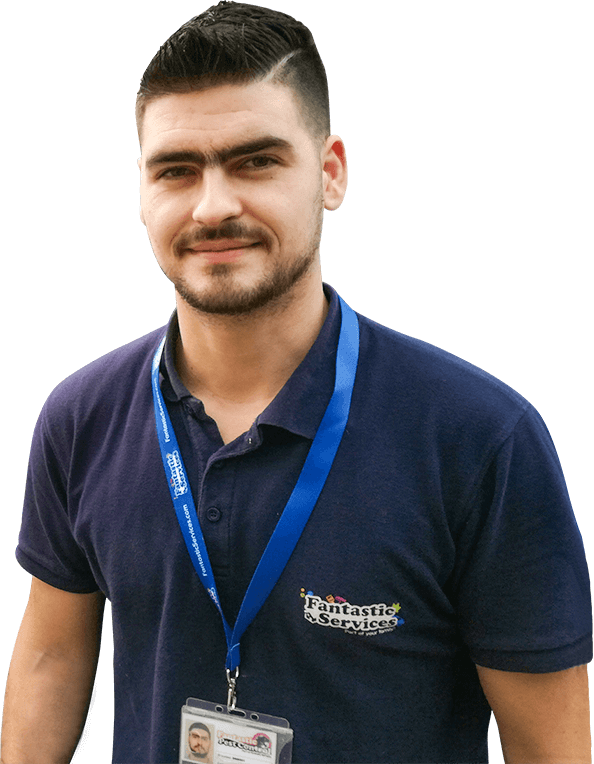 Meet The Professional Behind Your Service
Mark Dennison has been performing first-class treatments in Lambeth for a number of years now. Whether it's rat control, insect extermination, or squirrel trapping, the skilled pest exterminator will carry out each task up to COSHH (Control of Substances Hazardous to Health) standards. For your peace of mind, the expert is also covered by a public liability insurance.
As a partner of Fantastic Pest Control, Mark Dennison has access to Killgerm-approved products and the latest tech in the field. This will significantly speed up the de-infestation process and will keep your domestic or commercial property better protected against future incursions. A non-branded van can also be dispatched if discretion is something you need."
Mark is also responsible for our pest control services in Croydon, Southwark and Bromley.
You Have a Pest Infestation. We Have the Solution
Rodent Extermination

A single visit is usually all it takes to perform the mice control treatment. After all rodent entry points are located, the professional will fill them in using wire wool, sealant, and expanding foam (as long as the apertures are no bigger than ½ inch in diameter). If the infestation has been going on for a while, he will also use bait boxes with quick-acting poison and secure traps.

Bug Control

Your local professional can assist you with many forms of insect control, helping you fight off ants, fleas, cockroaches, spiders, silverfish, dust mites, and even the infamous bed bugs. For the bed bug treatment in particular, the exterminator will treat all affected surfaces in your bedroom with two types of insecticide spray due to the highly adaptive nature of the pests.

Wasp Control

The buzzing stingers will usually be taken care of in a single wasp removal session. To remove the nest from your property, the pest controller will use an extendable wasp wand to inject a potent powder into the nest. This will paralyse the insects and kill them shortly after.

Business Pest Control

Your pest control provider near you can also eradicate any pest presence from your place of business. There are many options at your disposal depending on the pest you're facing. For instance, the expert can use nets, spikes and fire gels to keep pigeons away. You can also order heat treatment (the 56°C will kill off all insects), fumigation (suitable for when you simply want to keep your property pest-free) and disinfection of all surfaces with biocides and a ULV machine.
What Makes Us Better Than Your Local Council
Hire skilled professionals who have had a thorough training and are equipped with a variety of insecticides, pesticides and modern equipment for a complete and efficient pest control service in Lambeth. Do not waste your time with your local council. We offer next day and emergency appointments!
| | |
| --- | --- |
| Lambeth Council | |
| Endless waiting list. | Appointment at your convenient time. Including Emergency appointments. |
| Working hours 9am-5pm, Monday to Friday. | Our call centre is open 24/7 for you. You can contact us at any time for questions. |
| Their availability is limited to days and working hours according to the area. | We have flexible schedule and working hours. We can come and treat your home any day. |
Where Can You Book A Fantastic Pest Control Service?
Ever woken up scared of a weird noise or something biting you in the middle of the night? When you need a pest control service the most, be sure to call Fantastic Pest Control, a local Lambeth team will arrive for an emergency inspection and treatment of your house.We also operate in:
I was able to do a really quick booking for an emergency fumigation treatment for a house in Lambeth I'm renting out because new tenants were moving in very soon. I'm very satisfied with the job you did and will definitely use your services again.