Pest Control in Harrow
Using equipment sourced by an official UK provider
Quick, reliable, and COSHH-compliant results
Job done by a certified and experienced technician
Same-day and emergency treatments available
Chase Away the Uninvited Guests with Harrow Pest Control Services
Looking for pest control near you? Fantastic Pest Control now has you fully covered! The skilled local professional is suitably equipped to battle anything from rodent and insect infestations to bird and squirrel invasions safely and in line with the best practices in the field. Your Harrow expert will also reliably proof your premises to prevent future pests from sneaking their way in.
The pest exterminator will carefully examine your property in order to identify the type of pest that bothers you, accurately assess the level of infestation, and pinpoint all hotbed locations.
The specialist will apply the most suitable pest control products and methods for your current situation, based on how badly your property is infested and on the type of service you need. For instance mice control, bed bug control, and wasp removal are all handled in different ways.
If you notice any further pest activity and have booked a guaranteed service, you can request up to two free follow-up visits within a 3-month period. The technician will then return to your property to re-evaluate the pest threat and carry out another round of treatment, if necessary.
Purging your property from creepy-crawlies is just the first step. The professional will also spray the area or use sealants, wire wool and other proofing materials to block all pest entry points. He will also give you free advice on how to avoid a recurring infestation in your home or office.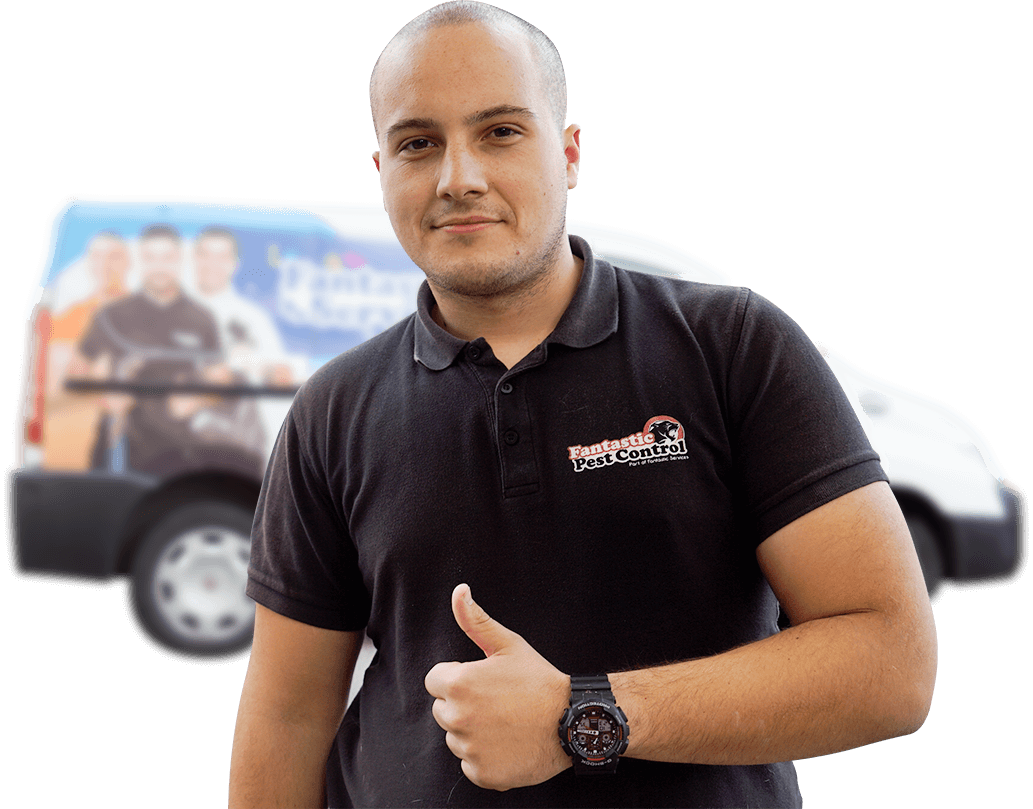 What to Expect from Your Harrow Pest Exterminator
Advanced pest control methods and cutting-edge equipment are not what makes a service great – it's the pest controller. And our Fantastic Pest Control partner, Michael, knows that well.
That's why the person who you will meet at your doorstep will be insured and will have passed training courses, including Killgerm Principles of Rodent Control and Safe Use of Pesticides.
Of course, the pest controller will have the tools and know-how to treat a wide variety of properties, including households, offices, hotels, restaurants, hospitals, schools, and more against a variety of crawling or flying pests. Upon request, any of the services (rat control, insect control, etc.) offered by the Harrow expert can also be done discretely with a non-branded van.
Fantastic Pest Control Knows the Weaknesses of Any Pest
Mice Control

The service is done in a single visit. The mouse and rat control includes sealing of rodent entry points up to ½ inch in diameter with expanding foam, wire wool and sealants. If the infestation is too severe and poses great health risks to the inhabitants, the expert will also deploy bait boxes and traps to capture and dispose of any sneaky rodents that may still roam the building.

Insect Control

The expert will apply Killgerm-approved insecticides to perform spider, silverfish, cockroach, flea, wasp control, and other forms of insect elimination. Among these services is also bed bug control. Bed bugs are persistent creatures, so the expert will need to visit your address twice.

First, the affected areas will be sprayed with a hard-hitting insecticide that will immediately kill both the bed insects and their eggs. The pest controller will arrive a week later to spray the area with an insecticide, which will protect your property from reinfestation for the next 3 months.

Squirrel Control

The squirrel control treatment is usually done in one go. The exterminator will use heavy duty cages loaded with bait. You will then need to check on the cages every 10 to 12 hours.
Once the squirrels are trapped, the professional will arrive to remove them from your property.

Commercial Services

Fantastic Pest Control offers a variety of professional solutions to eliminate the pest presence and protect your products, services, and clients from harm. One such service is bird control, where the expert will place nets, spikes, and use fire gels to keep the feral pigeons far away.

We also offer professional pest disinfection (using biocides and a ULV machine), heat treatment (eradicating insects, their eggs, and larvae by heating up the affected area up to 56°C) and fumigation (preventive spray treatment against future infestations).
| | |
| --- | --- |
| Harrow Council | |
| Book an appointment at a time that suits you (a.m. or p.m. only). Monday to Friday 9am to 5pm. | We are available 24 hours a day, 7 days a week. That includes weekends, bank holiday and Christmas. |
| Bed bugs treatment is done by the application of an insecticidal spray in the affected areas | Bed bugs treatment can be done with one of two ways. Using only an insecticidal spray or with the application of heat treatment |
Fantastic Pest Control in Harrow
Our pest control treatment and experience is near you. The pest control technicians are also servicing neighbouring areas and boroughs such as:
The exterminators are one of a kind. I was forwarded to your company by a colleague. Had serious problems with mice, the kitchen and living room was seriously damaged from them. Thanks to Elliot's intervention I am now mice free! I'll highly recommend you guys to anyone who has pest problems.