Pest Control in Haringey
Assessing the level of infestation
Determining the suitable means for pest control
Using the latest highly effective & safe products
Done by experienced & dedicated technicians
Pest Control Services for Haringey Properties
Contact us right away when you notice signs of insect or rodent infestation at your home or workplace in Haringey. Simply make an appointment for a pest control service and leave the rest to your dedicated local technician. He will come to your address to conduct a comprehensive inspection and make an assessment of the situation. To us, safety comes first and that is why we only resort child- and pet-safe pest control products. Rest assured, no matter the scale of the infestation, we've got all the necessary equipment and knowledge to tackle your pest-related issues.
The majority of property-invading pest species are active mostly during the night. That is why an infestation can be hard to detect sometimes. That is why the technician will carefully inspect your place when he arrives in order to determine what's the situation.
Your pest controller will come up with an action plan against the existing pest threat. This might include the application of time-tested techniques and various products. The technicians bring everything they need in their vans so the treatment can begin right after the inspection.
You can purchase a 3-month guarantee package that includes up to two additional treatments. We highly recommend this option for properties that at higher of re-infestation. For examples, places, where food is being stored or prepared, are very likely to attract the attention of rodents.
The technicians will do their best to provide a lasting protection for your property. The insecticides we use have a prolonged residual effect of about two to three months. On the other hand, blocking the entryways used by rodents to get inside is also very effective. Consult with your pest controller on how to protect your property from future pest-related issues.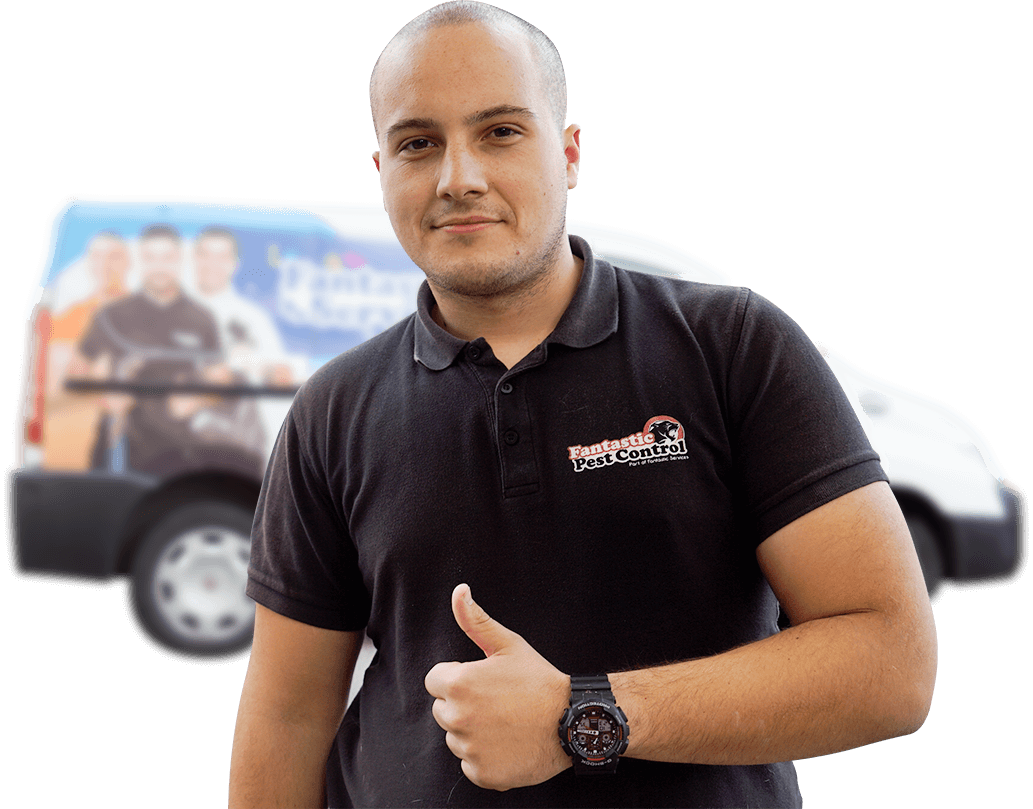 Your pest exterminator in Haringey
This is Michael and he is one of our franchise partners who operate mainly in the Haringey area. He has significant experience in the field of professional pest control, treating all kinds of domestic and commercial properties. Michael is dedicated to his work and always aims to bring the best possible results. He uses advanced pest control methods, agency-approved products and professional equipment to treat and protect homes and offices from pesky rodents and crawling insects such as cockroaches and bed bugs. And if you would like to keep your service on the discreet note, then we can arrange for your pest controller to arrive at your property with a non-branded van.
Michael is also responsible for the quality of our pest control services in Barnet and Harrow.
Some of the pest control services we are known for
Bed bug control

Our practice shows that it is best to handle bed bug infestations with two treatments, spaced a week or two apart. Basically, some of the bed bugs (a small percentage) will develop resistance against the biocide used against them. That is why a secondary treatment with a different product is necessary.

Mice control

These opportunistic rodents use small holes in walls to enter the property. That is why it is important to block the tiny entrances. Other than that we can place various traps to capture the existing mice.

Cockroach control

The kitchen is the most likely place to be affected by these crawling horrors. In case things are completely out of control, then we can resort to a fumigation that will eliminate the roaches immediately along with their eggs. Other than this, the use of a special bait gel is among our best practices. The roaches will eat it and perish.

Pest control for your business

Better contact us right away and make an appointment for an inspection if you are worried about a possible infestation. We will make sure that the threat is eliminated do everything possible to prevent future pest-related problems. And keep in mind the pest technician can arrive in a non-branded vehicle to keep the whole thing discreet.
| | |
| --- | --- |
| Haringey Council Services | |
| Unable to deal with your request without providing a phone number | Several options for contact |
| All pest control treatments are based on a house with up to 3 bedrooms with an additional minimum charge of £51 per extra room for bed bug treatments. | No additional charges, when we say final price we mean it |
| The council does not provide treatment for pigeon proofing. | Fantastic Pest Control offers pigeon proofing and prevention services |
Fantastic Pest Control in Haringey
We offer a wide range of services that both domestic and commercial property owners can benefit from. Our pest control services are not limited to the London borough of Haringey. Our pest control technicians are able to travel to any neighbouring London boroughs some of which are:
Fantastic team in Haringey
Your Fantastic team in Haringey were very very helpful. Also, can say that they are amazing professionals in what they do. More than happy with the service.