Pest Control in Hammersmith and Fulham
Dealing with insect and rodent infestation
Identifying vulnerable areas at the property
Using the latest effective pest control methods
Service by experienced & qualified technicians
Pest Control for Hammersmith and Fulham properties
There is no need to panic if you have noticed a mouse or a cockroach at your place. After all, pests are always trying to get in. Simply contact us and explain what's the situation. We are always here to provide you with professional help in case your property is infested with pesky rodents and crawling insects. Simply arrange pest control service for your property and leave the rest to your trusty local technician who will come to your address and assess the situation. We resort to advanced techniques and highly effective pest control products to tackle existing infestation and provide lasting protection for your property.
In order to determine what measures to take against the insects or the rodents that are bugging you, the specialist will take a closer look at the susceptible areas of the property. Once he is aware of the scale of the infestation, the specialist will know what would be the best way to treat your place.
For the majority of insect infestations we can do a fumigation treatment that has an immediate knock-down effect on the pesky bugs. However, it highly depends on the type of insect we are dealing. For instance, a bed bug treatment would require a second visit after the initial treatment. And when it comes to rodents, the technician will figure out how they enter your property and block those entry points with expanding foam and wire wool. Also, he will either physically capture the rodents at your place or drive them away with pest control products.
You have the option to purchase a 3-month guarantee service package that brings up to two additional visits from a pest control specialist. This is a budget-friendly option for properties that are under at higher risk of re-infestation such those in close proximity to venues where food is being prepared or sold.
No type of treatment protects your property forever. For example, the pest control products we use for insects have a residual period of about 2 to 3 months. Blocking the entry points used by rodents to enter your property is effective and lasts for quite some time but the pesky rodents might find other ways to enter. Discuss what preventative measures you can take with your pest controller.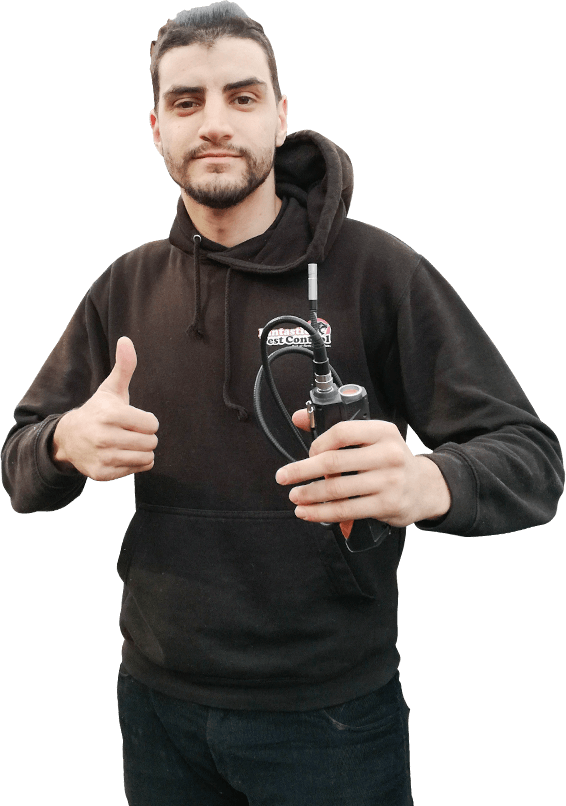 A trusty pest exterminator near you in Hammersmith and Fulham

Meet one of our franchise partners in the Hammersmith and Fulham area – Connor Fisher. He is an experienced pest control technician who uses top-notch professional equipment and highly effective methods to handle pest infestations of all scales. He has tackled countless cases of insect and rodent infestation at both domestic and commercial properties. Also, all of his work is compliant with COSHH and he has public liability insurance. Also, if you wish, the pest exterminator can arrive in a non-branded van if you would like to keep things a bit discreet.
Connor is also responsible for our pest control services in Ealing, Brent.
Have a closer look at what we can do
Cockroach control

A roach infestation can get out of control pretty quickly. Usually, kitchens and places where food is stored are affected the most. In case it's a very serious case, then we can fumigate for an immediate effect. However, the application of a special bait gel is all it takes. The cockroaches eat from the substance and are eliminated within 24 areas.

Bed bug control

The treatment against the tiny bloodsuckers is done over the course of two visits. That is is necessary because some of the creepy crawlies will develop resistance against the type of biocide that is used during the first treatment. The second treatment is done with a different product and it will finish off the remaining part of the colony.

Bird and squirrel control

There are some troublemakers that cause problems outside of the property. Such as pigeons and squirrels for example. We can make your roof 'uncomfortable' for the pesky birds by installing nets and spikes. On the other hand, if you have noticed squirrels roaming nearby, then we can capture them with bait cages and release them somewhere else.

Services for your business

There is no need to put yourself on the council's waiting list. Simply contact us and we will come up with an effective protection and prevention plan for your place of business. And the time for the treatment comes, you can arrange for the pest controller to arrive in a non-branded vehicle to keep things discreet.
How our services differ from these of the local council
| | |
| --- | --- |
| Hammersmith and Fulham Council | |
| Available only from Monday to Friday. | We offer 24/7 availability. |
| Payment is done upon booking. | With us you can pay when the pest treatment is done. |
| | |
Quality pest control around Hammersmith and Fulham
Any place in Hammersmith and Fulham is within our reach. Don't hesitate to call us no matter your current location. We also cover the areas around Hammersmith and Fulham such as:
As a landlord in Hammersmith and Fulham I have to keep my property in top shape. And any time I need help with any sort of infestation I rely on Fantastic Pest Control. I've used their service many times and they never disappointed me. I highly recommend them!