Pest Control in Brent
One-off & multiple-visits pest control services
Effective vermin extermination with guaranteed results
Comprehensively insured pest controllers near you
Advanced techniques and safe pesticidal products
Discreet Pest Control Services in Brent
Book a full pest removal service with Fantastic Pest Control, which includes a professional inspection, effective and discreet treatment, observation and two extra visits within three months, as well as expert proofing advice. We tackle successfully rodent and insect infestations by employing a range of industry-powered pest extermination methods. So, if you need help with bed bugs control, flea treatment, mice removal, bird control and more, hire a local pest service provider in your area with us. Our services are suitable for residential and commercial properties alike, hence, get in touch to schedule a guaranteed vermin treatment for your home or business in Brent.
 The first thing the pest controller will do is to determine the type of pest your property has been infested with (ex: rats or mice, bed bugs or fleas) and evaluate the scope of the issue. He will suggest the most suitable pest treatment for your case, based on his findings.
He will proceed with the treatment, which could involve spraying or dusting the affected areas with insecticides, setting up baits, blocking possible entry points, etc. Note that some pest situations require more than one visit, which are included in our 1-month and 3-months guaranteed service options.
Monitoring after the initial treatment is also important, as some pests are difficult to remove completely with one treatment. You will be advised on the best approach and the additional measures that you can take between visits to ensure the efficient eradication the infestation.
The experienced pest controller will offer his expert advice on prevention and proofing your home or business against pest recurrences. You will also receive some key post-service information on the dos and don'ts you should observe after the treatment.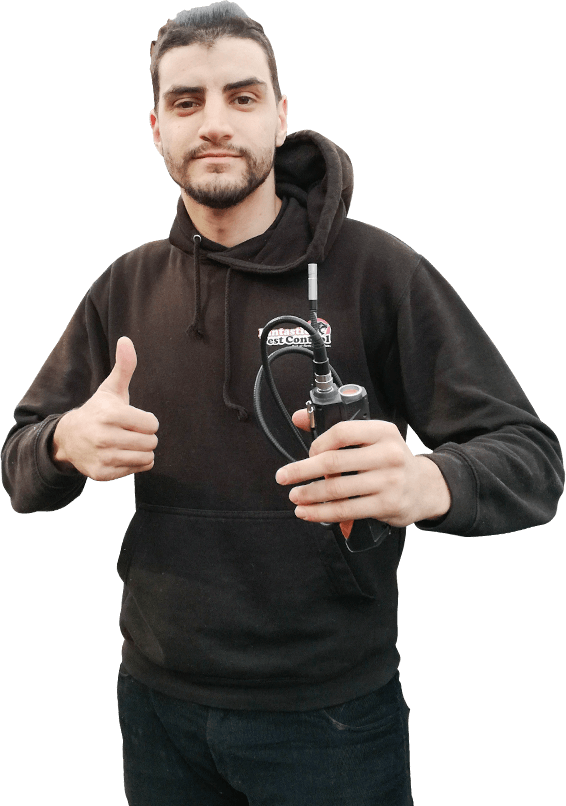 Read About Our Pest Control Partner in Brent
Connor Fisher joined our local pest management team in Brent a couple of years ago and never looked back. He is fully qualified, certified and insured to provide you with the most effective pest control treatment for your specific vermin situations. The technician is experienced in servicing both residential and commercial properties, as well as facilities in the public sector. He is additionally trained in COSHH compliant pest product applications and always executes the service with your health and safety in mind. Furthermore, you can count on his emergency response, subject to availability.
Connor is also responsible for our pest control services in Ealing, Hammersmith and Fulham.
What Pest Control Service Can We Help You with?
Mice and rat control

Depending on the scope of the rodent infestation, you can book a one-off rat or mice control treatment or such that is covered by a 1-month or 3-months guarantee. The last two include respectively one and two free subsequent visits, upon request. Additionally, you can complement your rodent extermination service by booking our dead animal removal option.

Cockroach control

As roaches breed out of control over a relatively short period of time, you should call a professional pest controller at the first sign of cockroach activity. The technician will determine the level of infestation and apply the most suitable extermination method (bait gel, dusting or spraying).

Bed bugs control

Our bed bugs control treatment is executed in at least two visits for maximum effect. The local pest controller will use powerful insecticide with a long-lasting effect to eliminate the biting bugs. Owners of larger properties (with more than 3 bedrooms) need to contact us for a personal quote, regardless what type of insect infestation they are dealing with.

Commercial pest control

We have a versatile client base in Brent, comprising businesses and public venues. So, don't hesitate to schedule your inspection with a local pest technician if you suspect a vermin infestation at your commercial property. For your convenience, Fantastic Pest Control will assign you with a personal account manager who will deal with every aspect of your pest control service.
What Makes Us Better Than Your Local Council
Hire professionals and experienced pest technicians with modern equipment for a complete and efficient pest control service in Brent. It is up to you if you want to waste your time waiting for the local council to schedule yourself an inspection. Fantastic Pest Control offers next day and emergency appointments!
| | |
| --- | --- |
| Brent Local Council | |
| Working hours 9am-5pm, Monday to Friday. | We are on your availability 24/7. Yes, 7 days a week, 24 hours a day! |
| Endless waiting list. | Appointment at your convenient time. Including Emergency appointments. |
| Their availability is limited to days and working hours according to the area. | We have flexible schedule and working hours. We can come and treat your home any day. |
Local Pest Control Services Near Your
Noticed any signs of a pest infestation on your property? No matter the type of the vermin pick up the phone and give Fantastic Pest Control a call. The local team of professional pest exterminators will arrive at your premises and provide you with a tailor-made solution for a pest-free home.
We also work with teams of professional pest controllers in other nearby areas:
Local exterminator in Hammersmith and Fulham;
Local exterminator in Ealing.
The pest exterminator in Brent was very polite and professional guy who did a thorough inspection of the house I rent for bed bugs. This problem was getting out of hands and I was able to make a booking only with your pest company for a weekend visit.